Family life is all about stages. Starting with the innocence of wee little ones, then quickly progressing to the formative teen years, adults typically find solace decades later in their empty nest. Finally, families ultimately face the golden stage: (grand) parenthood. For some families, a common thread through all of these life stages is the backyard swimming pool. A pool goes through life with you. It can be a constant throughout all of these stages.
Stage 1: The Early Years
Swimming pools often enter the picture when the kids are young.  They learn to swim and gradually get comfortable in the water. Yet the pool walls can't always contain their energy and enthusiasm. They need more…excitement in the water. That's where a pool slide like the Cyclone comes in. This kid-friendly, curvy apparatus of pure joy is just 4 feet tall and features molded handrails and an enclosed ladder. The Cyclone brings youngsters to a safe splashdown over and over again. It's perfect for youngsters who want to slide smoothly (and safely) into summer, leaving school far behind. When they outgrow the Cyclone they can move up to its big brother, the Typhoon slide.
Stage 2: The Wonder Years
Life now shifts to active teenagers, or rather, the quest to get teens to become more active. A swimming pool, especially one equipped with our sporty TrueTread™ diving board, will beckon your teens (and their friends) to jump for joy when they see just how awesome it is. Let's face it: Teens always love to have the latest, greatest and coolest gizmos and gadgets, and a diving board that screams "Look at me!" will be high on their list of summertime attractions.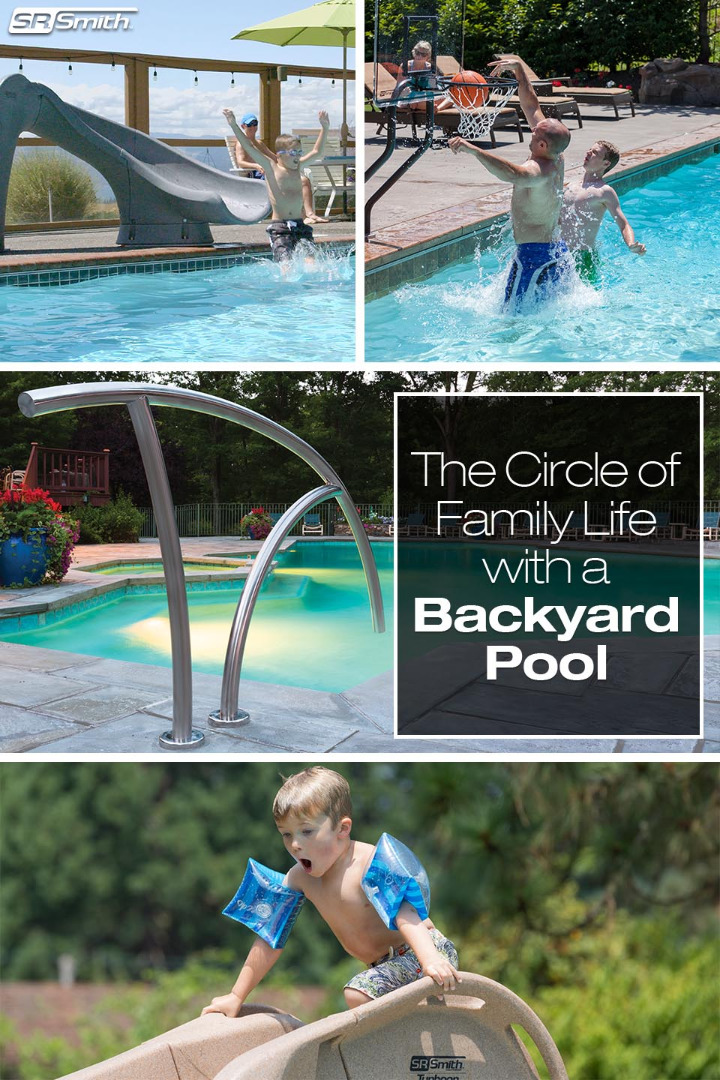 Teens also love to play pool games such as basketball and volleyball. These activities are great social connectors for teens because they can play with family members and with peers.
Stage 3: The Reconnect Years
You've done your job. The teenagers have moved out and moved on. Now is your time to enjoy the pool, as a couple. Create a "me time" oasis that is both functional and elegant.
For example, consider upgrading your traditional pool rails to the beautiful Artisan or Meridian Series Rails. These designer-inspired rails come in many shapes and styles, and are designed to retrofit easily with your existing pool rail anchors. When you swim carefree laps of quiet bliss or entertain your adult friends with backyard barbecues, the sophisticated, stainless steel railings will show your flair. Best of all, with fewer mouths to feed at home, you can afford them. And this makes you smile.
Also, if you've had your pool for over ten years, it's a great time to ask your pool professional about updated lighting options. LED lights offer a wide arrange of options that allow you to create an atmosphere that is uniquely your own.
Stage 4: The Golden Years
Smiling broadly when the grandkids show up, begging to use the pool, is what this stage of life is all about. They jump and holler and screech until you give in, which is easy to do. You enjoy the pleasure of their company, while they enjoy the pleasures of the TurboTwister® slide you installed on their behalf. The TurboTwister gives your grandkids the thrill of a waterpark without the hassle or expense. The TurboTwister stands nearly 9' tall so they will squeal with delight as they speed towards splashdown over and over again.
By the time the day is over, they'll be pleasantly worn out from splashing fun. Rest assured, they will want to do it again tomorrow, just like their parents did when they were kids. Suddenly you realize that life with a swimming pool has come full circle.