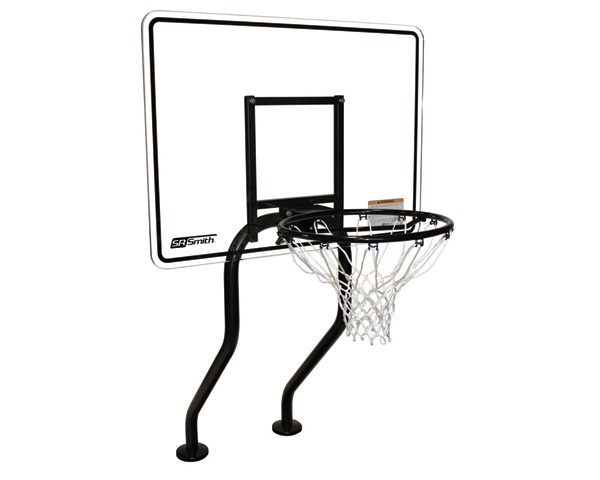 Key Features
Conveniently ships in two boxes for easy handling and storage
Single-piece rail, dual-post design with an 18" anchor setback
Salt Friendly SealedSteel® models are ideal for harsh indoor commercial environments
Comes standard with a plastic anchor & salt friendly escutcheons (optional bronze anchor available for purchase, separately)Comes standard with a plastic anchor & salt friendly escutcheons (optional bronze anchor available for purchase, separately)
Specifications: 18" setback to center of anchor. Commercial grade 1.90" OD, 304 stainless steel frame (Salt Friendly vinyl coated). Regulation rim, net, basketball, needle, anchors and escutcheons are included.
Part Number(s): S-BASK-EC
Shipping Dimensions: Two Boxes: 28 lbs. 42"L x 33"W x 3"H, 39 lbs. 52"L x 21"W x 13"H
Product Description
The Swim N' Dunk Commercial Salt Friendly Dual Post Basketball Game features a SealedSteel® coated, one-piece upright frame and rim.  The continuous uprights require less hardware and allow for quicker assembly, while the SealedSteel Salt Friendly coating will stand up to harsh pool environments. When you need your deck to be clear, the game can be easily removed from the anchor, and the optional anchor caps put in place.
Salt Pool Friendly

We understand the benefits of salt chlorinator systems -- that's why we've designed a line of products that perform well in salt pool environments. Our line of rotomolded slides have been manufactured with the most durable and salt friendly materials.
Replacement Parts & Accessories